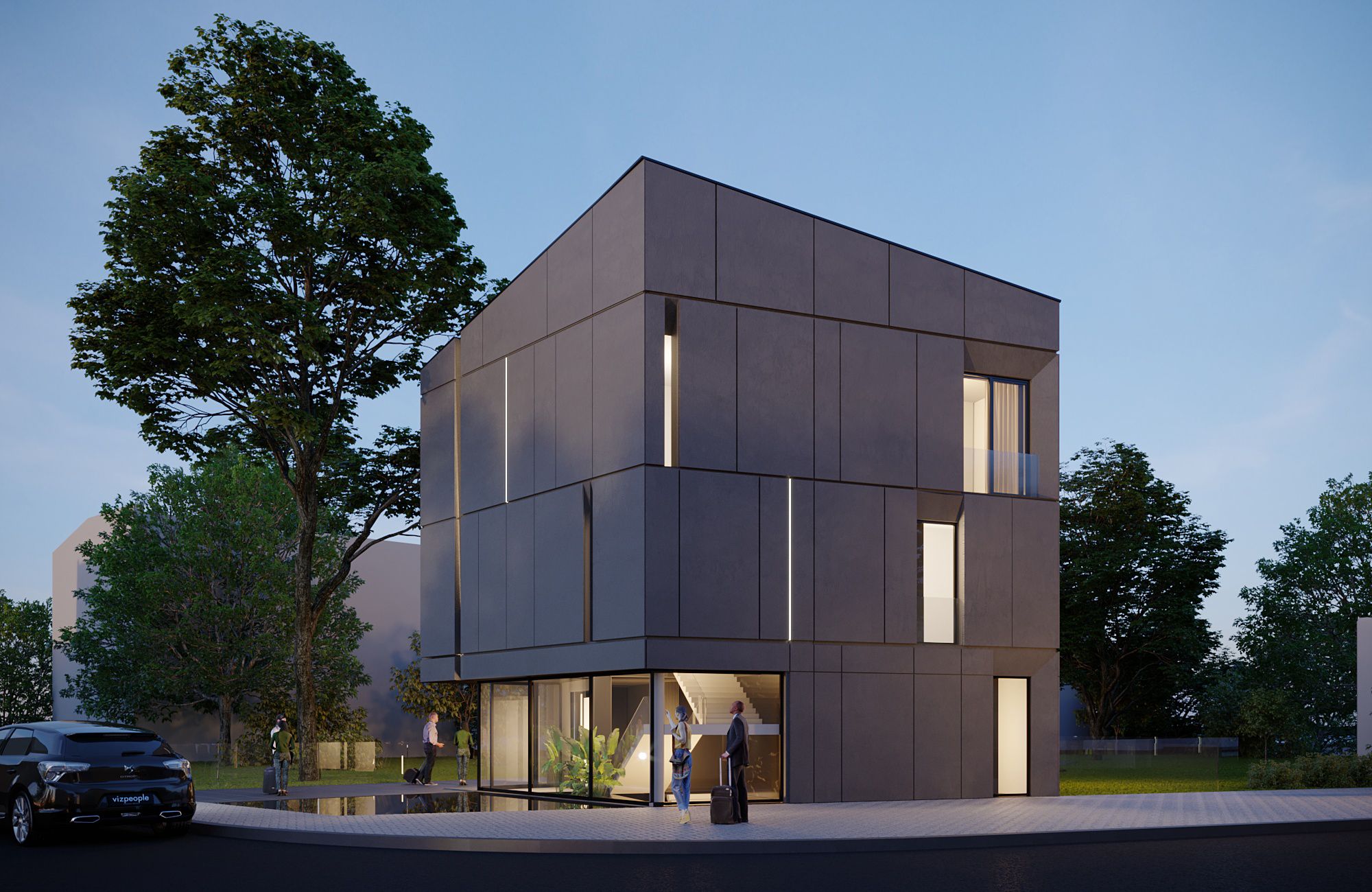 Area: 400 sqm

Design works: XI.2018 - V.2019

Implementation period: in progress

Visualisations: JMW Architekci

Based on experience gained in designing hotels and SPA facilities, we became involved in another unique bespoke project – design for a boutique hotel with numerous modern and ecological solutions.
The building has been erected on a relatively small corner land lot as a dominating element at the intersection of two transport axes in the vicinity of two- and three-floor residential houses and service buildings. The slanting parapet wall that tops the building roof emphasises the grading in importance of front elevations of this facility similarly to a crown.
The form of the structure was directly inspired by a block of natural stone stripped from a rock. To emphasise the exceptional nature of the facility, the elevation was made of Laminam graphite grey large panels of quartz sinter. This material spreads directly into the interior of common areas – stairwell, corridors and reception lobby. Also to highlight the investor's fascination with ecology, the air-purifying Hydrotect technology was adopted for the elevation of one of the exterior walls.
Planes of solid walls are intersected by vertical openings of narrow windows, in contrast to the open and substantially glazed entrance zone, forming a welcoming element to the interior. Despite there being a large number of solid planes, the structure appears to be slim thanks to vertical divisions of external cladding being accentuated, and to the use of vertical LED luminaires integrated with the elevation plane.
Not only the exterior zone, but also the interiors and services emphasise the contemporary nature of the building, which has central control system management and touch screens integrated into the walls. The dedicated application assures to the users unconstrained access to particular rooms and freedom in benefitting from fit-out elements, including ventilation, music, heating and the SPA zone situated at level -1.